Who is Vintage Designing Co.?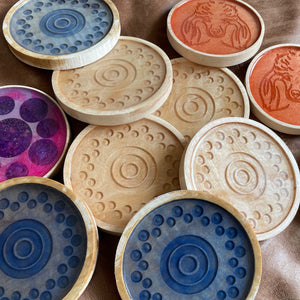 With an eclectic background in design and working with wood there was no better time than the present to realize the dream of a woodworking side hustle. While I have been practicing my craft of graphic design for over 33 years I have been dreaming of taking my design and woodworking skills to a new level. My philosophy is simple I want to bring quality, unique products that stand out in a crowd.
Being the mother of a wonderful Great Dane there is a lack of quality dish stands out there. I wanted to design pieces of furniture that would blend in with the most sophisticated interiors rather than being something that stands out like an afterthought. I have explored some designs that are aimed for the smallest dog to the gentle giants.
This year I introduced unique Christmas ornaments and Beer tree Advent calendars. They are made with cabinet quality Birch plywood and finished in a rich food grade beeswax. Charcuterie boards with various combinations of wood inlay or resin have also been very popular. Valet trays have come back into style and make a great place to leave the contents of your pockets and charge your cell phone.
New products are being designed every week and the side hustle will be a permanent fixture for my company.
Thanks for shopping and feel free to contact me with any custom orders. It is always great to have input from customers and discover new twists of everyday products!